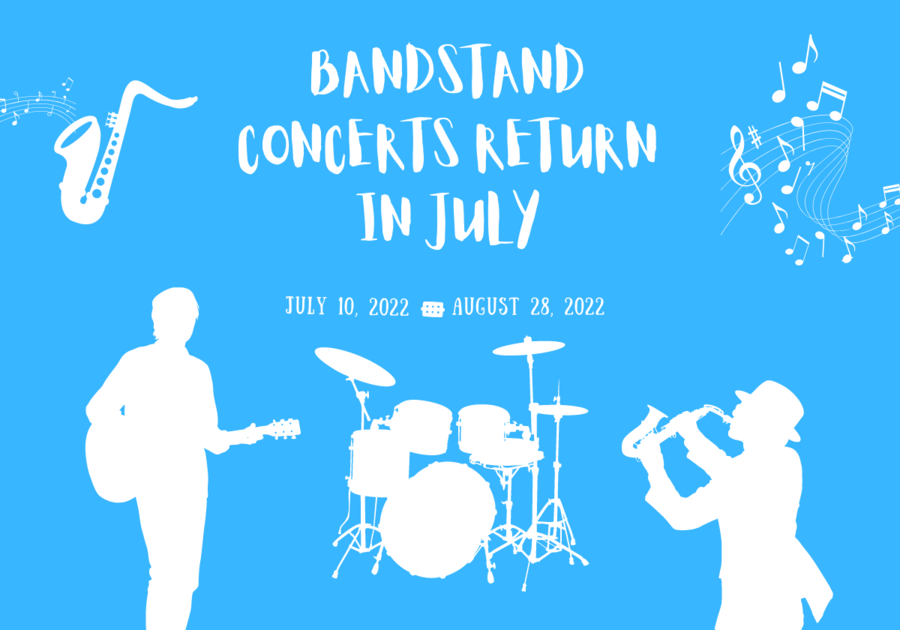 BANDSTAND CONCERTS RETURN IN JULY
David Benjamin, the Summer Music Director for the City of Gloucester announces a nine-
concert series beginning on Sunday, July 10, 2022, at 7:00pm with the Cape Ann Big Band
and ending on August 28, 7:00pm with the Rico Barr Band. The weekend of August 20 & 21
will feature two concerts (Saturday and Sunday) to make room for a new act; The Deep Blue
C Studio Orchestra. The Cape Ann Community Band will perform the Saturday evening
concert. The concert series is held at the Antonio Gentile Bandstand, Stage Fort Park,
Hough Avenue, Gloucester. The rain dates for the Sunday concerts is the following
Wednesday evening at 7:00pm. The rain date for the Saturday concert is the following
Tuesday evening.
The free concerts have been a staple of summer activities on Cape Ann for over 35 years
The 202 series will also feature the return of the Compaq Big Band on August 14 with three
Cape Ann "Jazz Divas"; Alexandra Grace, Renee Dupuis and Marina Evans. Many favorite
acts will also be returning this summer, including 4Ever Fab and the and the Continentals!
Benjamin encourages all to attend. "Fantastic music overlooking the outer harbor; glorious
sunsets; schooners sailing by; it doesn't get any better than this in Gloucester!"
Admission and Parking are free. Restrooms are ADA accessible. Bring a chair or blanket.
2022 Antonio Gentile Bandstand Schedule
July 10, 2022 Cape Ann Big Band (Big Band Jazz)
July 17, 2022 4Ever Fab (Beatles Tribute Band)
July 24, 2022 Old Cold Tater, Daisy Nell & Co., Down Home Swing,
(Acoustic Bluegrass & swing)
July 31, 2022 Lee Lewis and the Doo Wop All Stars
August 7, 2022 The Continentals
August 14, 2022 Compaq Big Band
August 20, 2022 Cape Ann Community Band
August 21, 2022 Deep Blue C Studio Orchestra
August 28, 2022 Rico Barr Band
For concert information please visit www.DavidLBenjamin.com or telephone 978-281-2286
---
"Salem Willows Concerts Begin July 5, 2022"
The North Shore Concert Band Salem Willows Summer Concert Series begins on
Tuesday July 5, at 7:00pm, at the Robert Hayes Concert Shell at Salem Willows, Salem
MA. Band Director David Benjamin promises another exciting season of your favorite
music played by local professional musicians.

The series of six free outdoor concerts begins with "American Salute", a patriotic
program to finish up the fourth; "Music of the 50's and 60's" (July 12); "March
Madness, Sousa to Williams" (July 19); "Spotlight on the Band" (July 26); "Broadway
Showstoppers" (August 2) and "Salute to our Front Line Servers" (August 9).

The band invites all Front Line Servers to the August 9 concert to be honored for their
efforts on our behalf during the Covid-19 pandemic. Director David Benjamin says
"We're dedicating this concert to the Medical workers, Safety professionals, grocery staff
and others who persevered to serve us during the pandemic."

Salem vocalist Jodi Jenkins Ainsworth will be the featured soloist in the program of
inspirational music. The free concerts are sponsored in part by The Musicians
Performance Trust Fund, The Salem Willows Merchants, area businesses and individual
sponsors.

All concerts begin at 7:00pm. Parking is free, restrooms are handicap accessible and the
audience is encouraged to bring a chair and a picnic lunch (carry in – carry out). Rain
dates are the following Thursday evenings at 7:00pm. Location: Robert Hayes Concert
Shell at Salem Willows, Salem MA.

For concert information please contact Gordon Bowman, Band Manager Tel:978-531-
9339 email: gbbjcb@verizon.net