OUR MISSION
To provide admission-free, live, quality music, performed by professional musicians to the public of all backgrounds throughout the United States and Canada.
We seek to enrich the lives of the general public, young and old, through music and to contribute to the public's knowledge and appreciation of music.
To make music and music education an exciting experience and to expand it to every child's life experience.
Copies of the MPTF Annual Report are available upon request.
Please call 212-391-3950 or email sramos@musicpf.org.
The Music Performance Trust Fund (MPTF) was established in 1948 as a nonprofit independent public service organization whose mission includes contributing to the public knowledge and appreciation of music, as well as making music a part of every child's life experience. Headquartered in New York City, the tax-exempt MPTF, operating under section 501(c) 3 of the Internal Revenue Code, evolved from a landmark collective bargaining agreement between the American Federation of Musicians and the major recording companies of the day. Today the MPTF is a vital organization that brings music to the public and supplements the income of musicians, all at no cost to those receiving this precious gift of music.
Funded via a royalty stream from the signatory record labels, led by the three major labels, Sony Music Entertainment, Universal Music Group, and the Warner Music Group, the MPTF today presents thousands of live, admission-free musical programs annually in the United States and Canada. Under the terms of their agreement, the recording companies pay a royalty from the sale of sound recordings to the Fund. These funds are supplemented by co-sponsoring organizations and administered by a Trustee, who is independent of both the recording industry and the AFM.
Music of all styles is brought to a total audience numbering in the millions and covering all age groups and segments of society. Music ranging from pop to classical, jazz to Broadway, is staged at venues including (but not limited to) parks, schools, concert halls, shopping malls, veterans' hospitals, nursing homes and more. The Fund sponsored or co-sponsored over 2,000 free live events in our 2018-19 fiscal year. MPTF performances are never used to raise money, sell merchandise or promote political or religious events.
Working in tandem with union locals in various cities, the MPTF places music in the schools, with priority given to music that enhances education and affords students an opportunity to enjoy live music and interact with professional musicians.
Music industry veteran Dan Beck, Trustee of the Music Performance Trust Fund has taken stewardship over the Fund and its commitment to the cause of free live musical performances, inspiring millions and culturally enriching communities throughout the U.S. and Canada.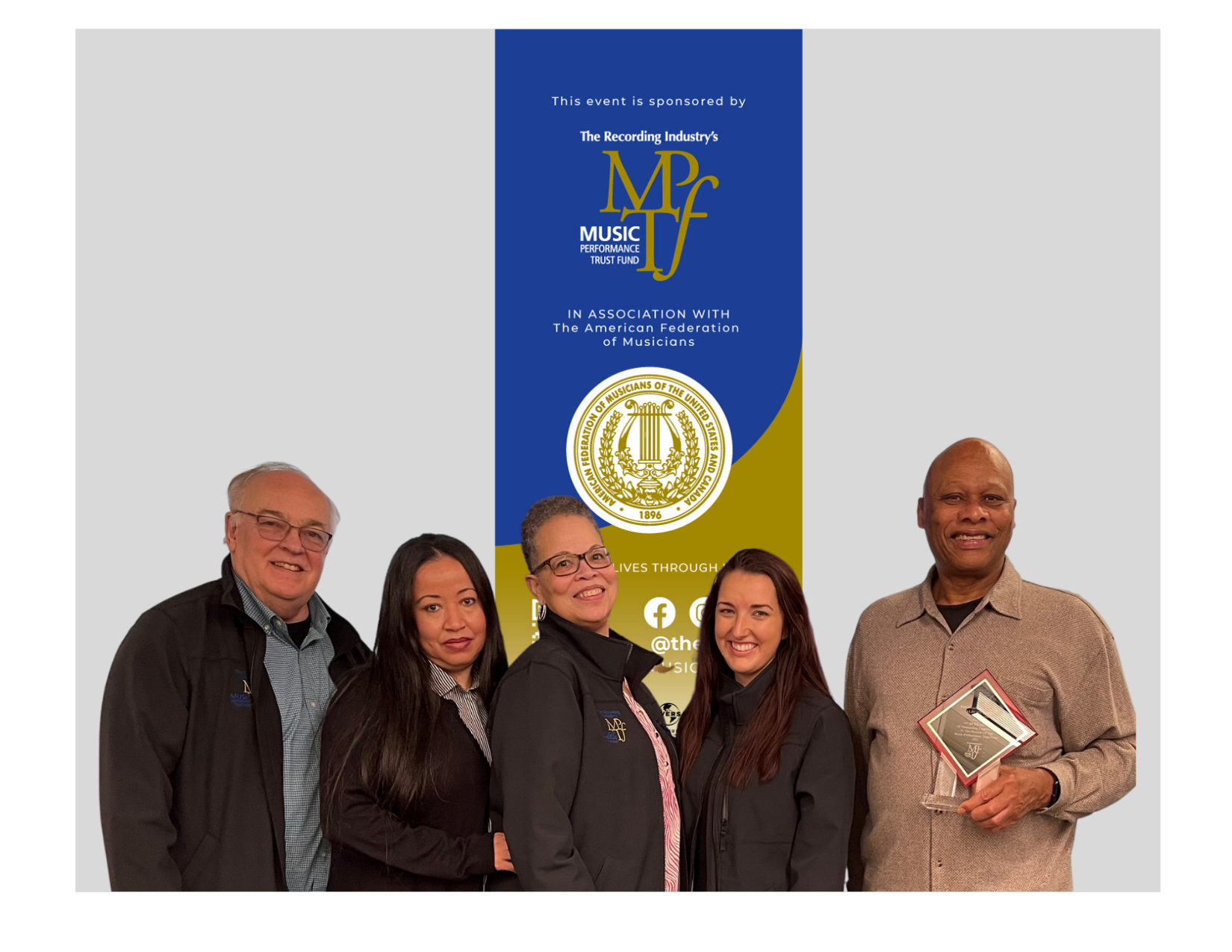 (L to R) MPTF Staff: Dan Beck, Trustee; Samantha Ramos, Director of Grant Management; Senior Vidrey Balckburn, Director of Grant Management; Natty Hepburn-Beaty, Manager of Marketing Services; Al Elvin, Finance Director.
Dan Beck
Dan has been serving as Trustee of the MPTF for over 10 years. He brings a lifetime of music business experience to maintaining the goals and efforts of our mission statement.
Vidrey Blackburn
Vidrey spearheads the grant review process for the MPTF. She has over 35 years of experience evaluating and implementing thousands of free live musical performances for the public benefit throughout the U.S. and Canada.
Al Elvin
Al is our Director of Finance and has spearheaded all finances for the MPTF for over 10 years. He handles grant payments, many day-to-day operations, accounting, and oversees our various auditing initiatives.
Samantha Ramos
Samantha has been an integral member of our grant management team for over 25 years. She shares the workload of reviewing grant applications, maintaining communications with the AFM locals, and assuring that our programs are carried out properly and efficiently.
Natty Hepburn-Beaty
Natty is our Manager of Marketing Services. She oversees live stream grants, heads up the Music Family and Music's Future Scholarship initiatives, and administers our social media accounts.